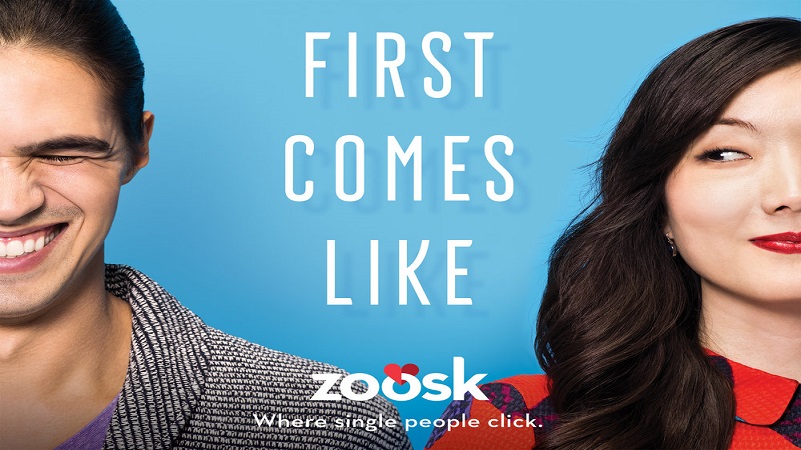 Zoosk.com began as a Facebook application in December 2007, and now it's a global dating site with millions of registered users to its name. Zoosk is a unique dating company on a mission to seamlessly integrate social networking and online dating. The dating website and app provide singles with an intuitive dating experience with affordable and customizable communication tools at their disposal. Zoosk attracts a fairly young crowd of singles looking for casual dates and deep relationships in a fun online environment.
The Dating Website and App – Zoosk.com
One major part of Zoosk's appeal is its simplistic, straightforward approach to finding people on the app. You don't have to submit to the Internet equivalent of a psychological examination or fiddle with the interface for hours to get the site working. There's also no home screen, or home feed, or any other source of abundant information that falls on you all at once when you're beginning your Zoosk section.
Rather, the site and app feature clear-cut sections that display individual profiles one by one, no matter which part of the site's functionality you're using. With one profile in front of you at all times, there's no confusion about what you're doing, and no irrelevant stuff to distract you from the task at hand. But, despite this focused approach, Zoosk is really a chill, low-pressure experience. Navigating between profiles is quick and seamless, so there's no need to take immediate action when you see an appealing person unless you're playing Carousel, which is the site's hot-or-not game.
RELATED ARTICLE: VictoriaHearts.com
Frequently Asked Questions
How do you find someone on Zoosk?
After creating your Zoosk account you should be able to use the search feature to find different people according to different criteria that you set up in your search.
Can you message on Zoosk for free?
No you can't read message for free. If you want to read or send any messages, you're going to have to pay for it.
How can I request the deletion of my data from Zoosk?
If you'd like to delete your data from Zoosk, send a request to Zoosk Customer Support team at [email protected]
How to update my information on Zoosk?
Open your web browser,
go to zoosk.com, and log in to your Zoosk account.
Click on your Zoosk display name in the top right corner of your screen.
Select My Profile.
This will take you to your profile where you can view and change your photos, basic information, story, perfect match, and ideal date by clicking the Edit or Add link next to the information you'd like to update.
Is Zoosk have a free trial?
Joining is free for a Zoosk subscription but there still are some limitations to the free version. Zoosk provides a free 30-day trial.
How much cost of Zoosk membership?
Monthly prices listed for a Zoosk subscription is
$12.49/mo for six months.
$19.98/mo for three months.
$29.95/mo for one month.
Is Zoosk worth it?
Modern days online dating website is terrible so everyone is very scared to join a dating site. Zoosk is an excellent choice for modern singles who looking for serious relationships. Most profiles are straightforward and complete, making it easy for you to determine whether the account you are viewing is a match or not.
Why we join Zoosk?
Zoosk is far more efficient! The logical way to sort and meet others you might have an interest in. A good percentage of the member base is active in the site. Members often use the site to look for serious dating and long-term relationships. The matchmaking functionality is excellent.
What are the pros and cons of Zoosk?
Pros
40 million members worldwide
Most members are within the age range of 25-34
Search by age, location, religion, education, height, body type, and more.
Send a like or smile to someone for free.
Cons
Zoosk is very expensive
Zoosk charges a one-time activation fee of $24.95 in addition to subscription cost.
The Auto-Reply system can mislead users
How is Zoosk different from other dating sites?
Zoosk is one of the most popular dating sites in the world. It has a clean design that makes the site really easy to use and interact with other members. The matchmaker functionality that Zoosk offers on its dating platform is different from other dating sites.
Phone Number : +1-888-939-6675
Address: 989 Market Street,
San Francisco CA, 94103, US
Reviews
Same as all the rest reviews it's a scam
Same as all the rest reviews it's a scam. Save your money it's all fake. Leave it to the Latvians and we're idiots and sad sacks for wanting to believe this crap.
Bots bots bots bots!
Bots bots bots bots! There is no genuine user here! They keep saying they make sure the 'community is clean',when am pretty sure they either coded the bots or allowed them from porn websites. Pathetic app! Don't even think of paying a subscription or installing the app unless you want to chat with bots leading others to porn websites and getting liked every 5 seconds
This company is the biggest RIPOFF
This company is the biggest RIPOFF on the Internet. It's nothing but a marketing scam!!!! DO NOT JOIN THIS SERVICE!!! UNLESS YOU WANT TO BE RIPPED OFF. This service gives you the same messages and likes over and over and DOES NOT follow your requests!!!!
I was hacked one time
I was hacked one time by someone else claiming to be and literally contacted over 100 people, several times had someone contact me and tell me they have a friend contact them directly, when in fact they were hackers, and now that my subscription has expired got a email from a phisher saying my account was charged for a 3 month membership. I think their security is very poor, and never met one person after 6 months of membership. But like someone else said after the subscription expired, lots of claims of people who wanted to meet me.
Worst Dating Site
I have been on this site for a few months, and haven't once seen a profile that matches my preferences, ethnicity, or distance. Seems they just roll the dice and throw in random people from wherever. This company needs to be reported. I will be looking into contacting news stations, so they can do some investigating reporting.
Total waste of time and money
Run from this site it is a total waste of time and money
The worst that ive ever got to experience.
The worst that ive ever got to experience. From people quality, unfriendliness of the app, unfiltered offensive profiles, blank profiles, profiles totally opposite of what you ask or hope for. Question is, everyone's complaining about the same things, all true, but how can we solve the issue, at least if we lost the money others won't. Could they be banned? It was the only transaction my CC asked me to confirm this purchase… go figure. Couple of weeks into it n already anxious how could i cancel successfully n erase the profile…who owns this company n what makes their practice legal?
Never come here.
These guys do not protect your privacy and they don't refund money. Worst experience ever. Total rip. Never come here.
It is complete rip off
Stop paying for their services, it is nothing more than showing you all the photos and you can't communicate with any of the ladies, you will be asked to pay just to write an email, a total scam. The admin does not answer your email complaints, just know to collect money and ask for upgrade from you. It is complete rip off, bull$#*!!
Sad to see such attitude
Sad to see such attitude, but their photos, questions and attitudes are very political oriented. If you have different political belief, you will have difficult and hard to deal with.
Horrible experience
Awful app. Horrible experience. After using the app for two days (and not sending any messages or even matching with anyone) I received a message to say I was permanently blocked due to my 'behaviour'. I cannot possibly imagine how I could have violated guidelines without actually communicating with anyone. I'm a respectable 45 year-old woman, so perhaps this site thinks I'm expendable. However, I found the whole experience rude and upsetting. It's shocking that they claim to be founded on principles of 'respect' when they can treat people so badly.
So disappointed
So disappointed and think this is a fix. I joined this site about 1 month ago – did not subscribe, got lots of emails telling me how lucky I was and what a huge amount of interest I had! Guys were viewing my profile, every day for 3 weeks it told me I had at least 8 visitors. So I spent just over £32 for a months subscription. Four days, not one view on my profile!! Very disappointed! I wish I'd read the reviews here and saved myself some dosh. Thanks for nothing!!!
An absolute waste of time and money
To say the women on here are straight out rude is an understatement. Been on other sites and haven't struck it. The matches are just horrible. I canceled after 2 days but unfortunately locked into 12 months. An absolute waste of time and money.
I don't like this site
I don't like this site very much either.
So far... So Good
Most of the people seemed to be truly looking for a relationship… Most of the people were respectful and there were some good catches… I liked the systems they use on this website… And I've met a really good guy… And I hope things will really work out well between us… So far… So Good.
Pleasure
My experience with your site was a pleasure
Don't fall into the trap!
A very unpleasant experience … don't fall into the trap!
Very fake e-mails
Very fake e-mails from robot women. What a joke! I paid real money to communicate with fake profiles.
The worst ever dating site!
The worst ever dating site! When I joined I was a free member for a while, then they started sending message alerts. They made it look like I had so many messages but I could only read them after paying. Imagine my disappointment after paying only to discover that all the 24 messages were nothing but site generated fake images with nothing but a heart emoji or some stupid question like 'what is your favourite..?' The site is a rip off!
Great service
Great service continual communications easy to use I had many conversations and was near to giving the whole thing a miss then I started chatting with this lady and from then on our friendship has grown to a blossoming relationship
Good Luck
It took a long time on this site to finally find my true Love. She's amazing; good Luck to the rest of you all in the same search.
It was easy to use
It was easy to use and plenty of potential people to get to know which helps to find a match to suit.
It is easier to use
It is easier to use than other sites, making your profile & changes were simple as well as viewing others. Also contact messaging to each other wasn't problematic, i have happily recommended to others who also agree the same & if the new contact doesn't work out you are welcomed back & it's as if you didn't leave so great.
It has worked for me
It has worked for me I have found my true love and soul mate
I highly recommend this site
Well it has been a long time since i have been using this site. I had also tried other dating sites but this was the best among all other. So i highly recommend this site, i had good experience from this site and i recommend to try this site once,it wont disappoint you.
I found my wife
I was able to find a lovley girl that i have now been married to for 7 months
This is great place
This is great place if you are feeling alone or depressed because through this dating site we can explore new places with new member or new company and we can refresh our mood with happening person and place around us and best this about this site is they have high security policy.
Great site
Great site with mostly genuine people. The way they match you saves a lot of time wasting and really gives both sides a chance of meeting someone they really want to engage with.
Excellent site and service
Excellent site and service. For international dating this site is the most serious I have come across so far.
It is not a classic dating website
It is not a classic dating website, but a service that helps people to find a partner for a particular trip. When traveling and having plenty of extreme conditions, the personality is seen better. A trip is an easy method to check the chosen partner for morality and life values.
Really good and easy to use
Really good and easy to use
I am really satisfied!
I never thought I would find my love online. This is exceeded my expectations by far! If it wasnt for this site, I would never have met Adriana. I am really satisfied!
Thank you!
The very first person I met off of this website was a who they portrayed themselves to be online and was even better in person than they appeared online. I am looking forward to getting to know him even better. Thank you!
I have found the woman of my dreams
I have found the woman of my dreams. I wish you all luck and love. Just remember that you get what you give.
The app is very easy to use
The app is very easy to use. I was a Member for 1 yr and had plenty of inquiries throughout. I paused my account numerous times and had even cancelled but restarted my subscription. Each time was very easy and seamless. I FOUND SOMEONE!
They don't care
People always buffer the look and style of themselves and they are not whom they seem to be so it become a misunderstanding and a bad situations for people to have to deal with and they don't care about other people.
This is a total rip off
I took out a 3 month subscription and after two turned off auto renew. They cancelled my last month but didn't refund any money. This is a total rip off. I complained to Apple who were no help at all even though they are the agent.
DO NOT USE IT. I'm telling you.
Zoosk is controlled by racist whites our of Oregon. Nerd small town losers control who you are dating. Don't use it. There have been deaths and all kinds of things that's happened because of the networking on this peezy site. DO NOT USE IT. I'm telling you.
Its a crap
Its a crap shoot every time so remain vigilant.
Very creepy
The site is a good idea but poorly ran and appears to be partially a scam. I believe they also keep your user information ie photos etc.. very creepy
I cancelled my subscription to Zoosk
I cancelled my subscription to Zoosk one day short of two weeks from when my paid subscription ends. When I cancelled, they stated that my paid subscription ended that day before the one day shy of two weeks
I was a member of Match as well and they responded offering a discount and not ending my paid subscription when I decided not to stay a member after my paid subscription was over. Match.com did not stop my paid subscription, which is the required legal response.